Cub Scout Awards Tracker (With Free Printables)
Organize and simplify your year in Cub Scouts with this free Awards Tracker.   Keep track of all of your completed adventures all year long using this fun and colorful printable checklist.
Cub Scouts Awards Checklist With Free Printable
Keeping track of a scouts earned awards can be overwhelming. Anything that can save time and help keep things organized is an automatic winner in my book!  With this printable you will be able to easily track what a scout has accomplished, the date they earned it, and the date they received their award. 
The printable is broken into different sections.
Section 1: Track each item completed to become a Bobcat.
Section 2: Track completed and awarded Core Adventures.
Section 3: Track the completed and awarded Elective Adventures.
There are extra spots on the printable to track when your cub scout has earned their Protect Yourself Rules, Whittling Chip, Outdoor Activity award and more.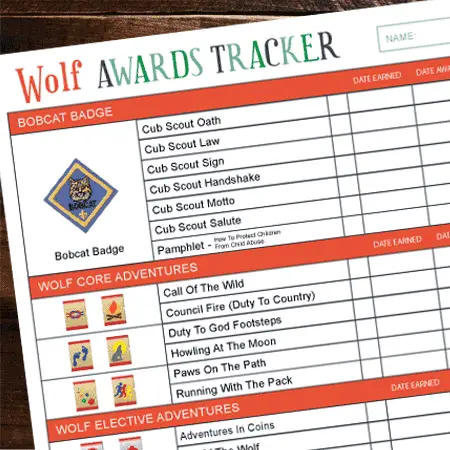 One of the most helpful parts of this printable is that it is a visual motivation and reminder on what exciting adventures have been completed and those that can still be done.  Filling out the sheet as new belt loops or pins are earned can help parents and cub scouts stay organized and help to know what adventures have been completed at the meetings and what can be worked on at home. For a more detailed view of each adventure and all of it's requirements this free checklist (tiger, wolf, bear, webelos) is really helpful.
Staying organized as a leader is the key to saving time and keeping stress levels low 🙂  A lot of times your Cub Scouts will earn their belt loops and pins at different times due to whether they miss a meeting because of sports or being sick or just not accomplishing their at home assignments. Because of this not all scouts will receive their awards at the same time. This printable will help you track who has earned an award and if they have received one at an awards ceremony.