What Are The Cub Scout 6 Essentials?
The Cub Scout 6 Essentials are:
First Aid Kit
Water Bottle
Flashlight
Trail Food
Sun Protection
Whistle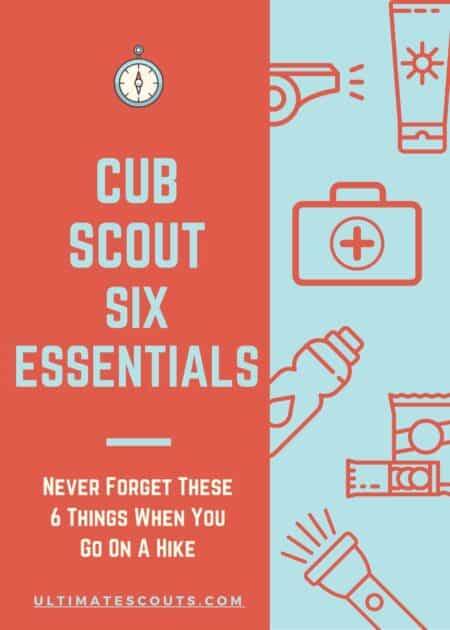 Even though a hiker would like to keep their back pack as light as possible there are some things that are essential to put in your bag during an outing. We have listed the 6 things taught to young Cub Scouts as the most essential items to have with them and we have recommended some of our favorite picks.
For some fun and free learning printables, scroll to the bottom and check out our iSPY worksheets.
The first aid kit that you pack should be small and carry a few important items.  Remember, the Scout Leader will have a more robust first aid kit for larger injuries so a scout will only need the most important items for a smaller injury.  A kit should include bandages, moleskin in case of a blister, anitbiotic cream, and some soap or hand sanitizer.
 You should always make sure you have water with you on any hike or outdoor activity you go to.  How much water should you take? You should ask yourself how long the hike or activity is and what the temperature is. The hotter the temperature, the more water you will need.
The general rule for how much water to take is:
Adults: 16-20 ounces per hour (about 2 cups)
Kids: 8-16 ounces per hour (1-2 cups)
When looking for a water bottle to purchase it is good to have one that is easy to carry, keeps your drink cold for a long period of time, is BPA free and is easy to clean.
Even if you are going on a day hike you will want to have a flashlight with you.  Often times we don't realize how long a hike will actually take and find that the sun is going down before we are back to our car.
During your outing it is possible you or a friend can get a minor injury like a twisted ankle or knee slowing down how quickly the hike goes or you may even find that the injury is so severe you will have to stay in one place waiting for help. If it is later in the day and the sun is setting while you wait, you will want a flashlight to provide you with light and to signal your location to the medical help that is looking for you.
The flashlight can also be used to signal other hikers you need help, it can be used to scare off animals at night and it can help you easily spot an animal when you see their eyes reflecting back your light.
Snacks have to be the best part of a hike, right? Especially if they have chocolate in it…maybe that's just me.  When picking a snack for your hike make sure what you choose is healthy, provides energy and is light and portable.
Common choices to take on a hike are, trail mix, granola bars, fresh fruit and beef jerky.  If you are going with a group of kids on your hike, I recommend avoiding trail mix with peanuts in it just in case one of the kids or adults has an allergy to it.
During a sunny or even an overcast day you can quickly get a sunburn.  Be sure to apply sunscreen paying special attention to the nose, ears and the lips (which often are forgotten). It is helpful to wear a brimmed hat to block some of the sun from hitting your face.
A whistle is one of the essential items that scouts are taught to carry. The whistle is only to be used in case of emergency. The whistle is needed in case you are having to get someones attention for help.  When yelling for help your voice can get worn out quickly but you are able to blow a whistle for a very long period of time.
Three, 3-second blasts are the international call for help.
What Do I Carry My Hiking Essentials In?
What are you going to carry your essential items in?  It is definitely recommended to carry something light weight and that keeps your hands free.  You are probably not want to empty out a school backpack and carry that on a hike so we have recommended a couple inexpensive, light weight bags that can be used for a variety of things like a hike, campout, sleep over or as a sports bag.
Hiking Safety For Kids Free Worksheets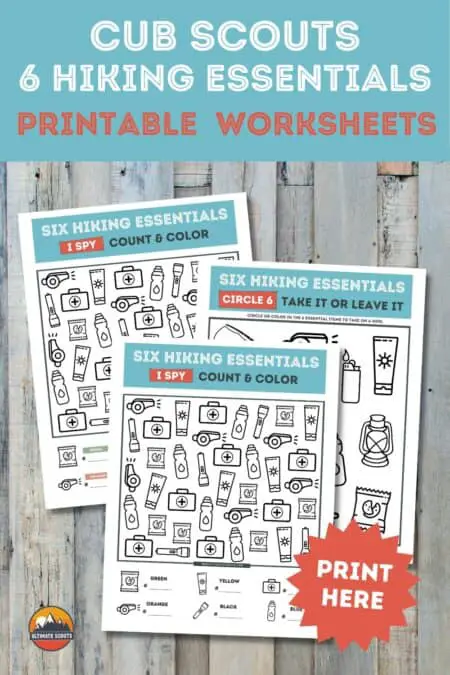 We have some free ISPY printables for kids that continue the theme of hiking essentials for kids. You can download them for free from our Printables Shop and you can also check out more of our Free Printables here.