My Tiger Jungle Adventure: Take A 1-Foot Hike
This idea is not only good for cub scouts but it's good for getting any kiddos off the devices and outside. Not only do they enjoy it but you can feel good about them getting outside and getting some fresh air!! It's a win-win.
The Tiger 1 Foot Hike is such a fun activity that you could do this more than just as a cub scout requirement!  If you have ever tried to come up with a fun activity to help get your kids off devices and out the door, this activity is for you!
In this activity the kids will get to investigate a 1 Square Foot area of ground to see what types of things they can discover.
This activity can be done anywhere! You can explore different areas so kids can discover the differences in each environment.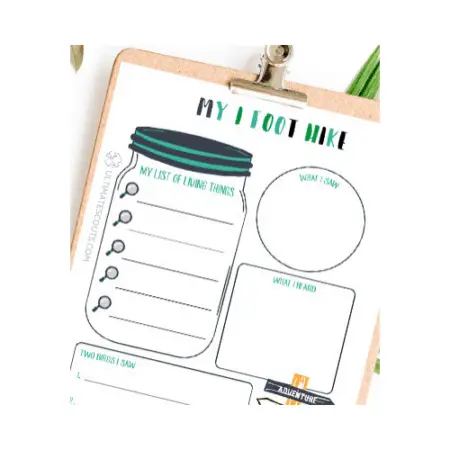 I recommend having a 4 foot piece of paracord or string tied into a loop.  When you find an area you want to investigate lay out string to form your square foot (or circle 🙂 )
Give the scouts 5-10 minutes to examine their area. Have them look under rocks, in logs, up growing plants. (Here is where the kids love to use a magnifying glass)
This activity can be done while on a longer hike as well. Every so often on your hike, toss down your string and begin investigating.
Record your findings on our 1 Foot Hike Worksheet. There is a spot where kids can write or draw pictures of what they find.
Our worksheet is designed to help complete Requirements 1 and 2 of My Tiger Jungle.  The scouts can help fill out the list of things that they discover in their 1 foot area or they can draw pictures.  Have them draw a picture of 2 sights or sounds of nature that they hear around them.  Don't forget to have the scouts share their cool findings with the den or their adult partner.
You can also complete requirement 3 by having the scouts point out 2 different birds in the area.  The scouts will need to learn more about 1 of the birds they see so maybe ask if any of the adults or kids can share a fact about the bird.  If not the Merlin App or BirdsEye App are a great resource for info.