As an American, I will do my best to
Be clean in my outdoor manners
Be careful with fire
Be considerate in the outdoors
Be conservation minded
What is the Outdoor Code Meaning?
To help when you are teaching about the Cub Scout Outdoor Code we have broken it down and listed what each line of the Outdoor Code means.  A free outdoor code game printable and an outdoor code and leave no trace printable is available down below.
Be clean in my outdoor manners

• Treating the outdoors as a heritage that we must keep in good condition for ourselves and others so that generations to come can enjoy what God has given us.

• Your goal is to leave no trace of having even been in the outdoors. That means you help keep trash and garbage out of lakes, streams, fields, woods & roadways.

• The best way to do this is to carry out all of your garbage after a hike or campout. If it is too much to carry out you can burn it or bury it. You want to be sure not to burn any synthetic trash as that is harmful to you and the land.

• If you have camped out be sure to bury any human waste and toilet paper at least 1 foot deep so that animals can not dig it up.

• Remember to Leave It Better Than You Found It.

Be careful with fire

• You can prevent wildfires by building fires in permitted and appropriate areas.

• All fires should be held in a fire pit. You can build your own by scraping away all the dried leaves and sticks and then forming a ring of rocks found in the area.

• Keep the fire small and only use the necessary amount of wood so that the fire will burn down to ashes.

• When finished using a fire be sure that the fire is cold out. Put the fire out with water and ensure that it is cold before leaving.

• Leave a clean fire ring or remove all evidence of fire.

Be considerate in the outdoors

• Treat the land and other land users (ex. hikers, campers) with respect. If taking a break move to the side of a trail so others can pass by.

• Camp and hike on durable surfaces. Hike on the trails provide so there is less impact on our environment.

• Choose camping sites that do as little damage as possible to plants & animals. For example, when you pitch your tent try and not to do it over plants life, it will damage the plants and possibly your tent.

Be conservation-minded
• When we are conservation minded it means we are trying to conserve our environment from waste, decay, or loss. 

•We can help conserve our environment by making sure we Reduce (plan the foods you bring on a hike or campout wisely so you will have very little waste or garbage), Reuse (use a reusable water bottle instead of bringing plastic disposable water bottles; reuse damaged equipment by learning to repair it instead of purchasing new items and throwing away repairable ones), Recycle (if you do have a lot of plastic at the end of a camp-out, recycle it so that it does not get thrown into a landfill or left around to find it's way into our waterways.)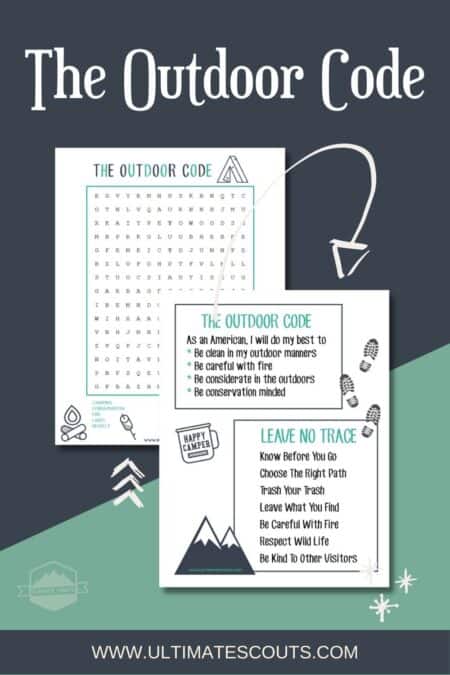 Quick History of the Outdoor Code BSA
1954 – The president of the United States, Dwight D. Eisenhower, wrote a letter asking the Boy Scouts of America to "arouse public recognition of the need for adequate protection and wise management of our soil, water, mineral, forest, grassland, and wildlife resources."
Result – In the March 1954 issue of Boys Life magazine, Green Bar Bill (an influential Scout leader) announced the BSA Outdoor Code and asked that all the scouts start sharing the code.  The code was presented as a guide to all Americans in how to treat the outdoors. The message was spread at school assemblies, public rallies and demonstrations and other public gatherings.
Outdoor Code Game - Free Wordsearch Game
A fun way to start off a scout meeting is by using our Outdoor Code game.  While scouts are arriving they can work on an entertaining word search all about the Cub Scout Outdoor Code.  You can print it for free HERE.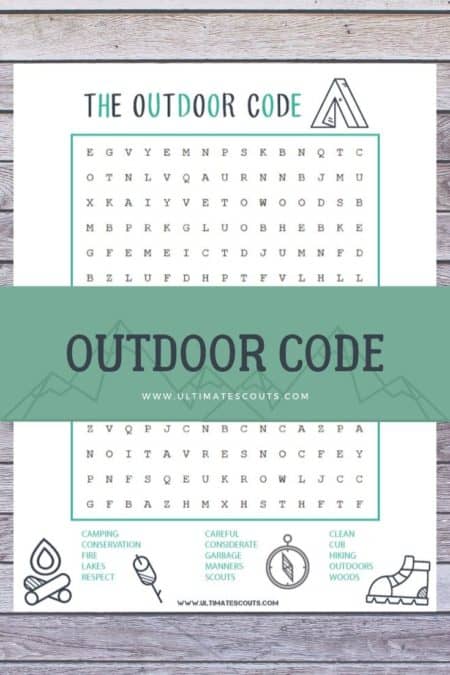 Outdoor Code & Leave No Trace - Free Printable Poster
You can start off your cub scout meeting with our fun word search but while cub scouts are learning what the outdoor code means our free "poster" printable is a cool looking resource for the kids to follow. Hanging it somewhere you can see it everyday will help make memorizing it much easier.
If you missed it, up above, at the beginning of the post is a breakdown of what each line of the Outdoor Code means. Scouts are required to not only memorize it but to understand what it means so they can have an easier time following the guidelines when they go camping, hiking, or to an outdoor event.