Scout Law Coloring Page - Free Printable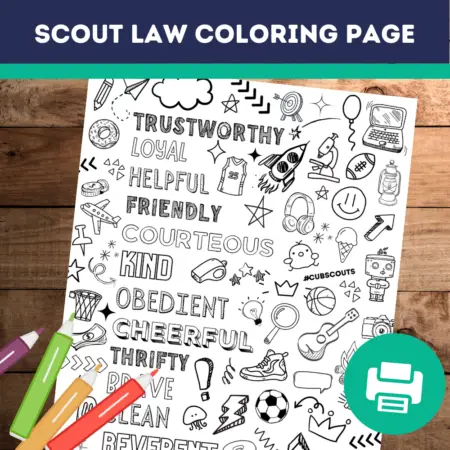 Cub Scout Activity - Free Coloring Page
We are excited to offer our brand new free coloring page that is perfect for Cub Scout fans of all ages. Our Scout Law coloring page is packed with fun doodles that celebrate the spirit of the Cub Scouts and you and your scouts will have a blast coloring it in. Download it now and enjoy a free cub scout activity.
More Cub Scout Law Activities
We have more Cub Scout Law activities that are designed to help children learn the values of the Scout Law. These activities will help teach the importance of the twelve points of the Scout Law: trustworthy, loyal, helpful, friendly, courteous, kind, obedient, cheerful, thrifty, brave, clean, and reverent.
Some of our activities include "posters" to display the Scout Law in a visible place, helping teach about what each point of the Law means, and worksheets that will make learning about the Scout Law fun for the kids and help them better understand the 12 points.