Pledge of Allegiance Printable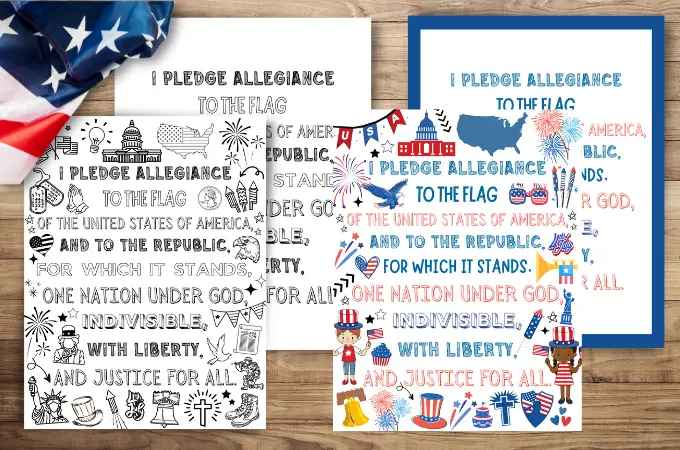 If you are looking for a printable Pledge of Allegiance we have got you covered. 🙂 We have made a number of different kid friendly Pledge of Allegiance printables and all are available to download and print instantly.
Pledge of Allegiance Printable - Coloring Page
We have 2 options for the coloring page printable. We have a printable that is full of patriotic doodles & images that can be colored in and a blank option where kids can decide what patriotic images they would like to draw around the Pledge Of Allegiance that is situated in the middle of the page.
Pledge of Allegiance Colorful Printable
Our second option for a youth friendly printable Pledge of Allegiance comes in bright patriotic colors. We have 2 different options for this version as well and one is loaded with colorful patriotic doodles and the other is more simple with a blue border.
Pledge of Allegiance Activities
These printables can be used as learning tools a number of times during the year. It's a great activity to pull out during the summer while kids are on Summer Break. Have kids color in the doodles & words on the coloring page or doodle in their own patriotic drawings on the blank version. This makes for a great July 4th activity.
The colorful Pledge of Allegiance printables can be hung around the house or displayed on the fridge on important days like Veterans Day, Memorial Day, July 4th, and more.
If you are having a BBQ this summer you can lay out a number of coloring sheets and crayons on the tables so kids can have a fun activity to do while they are waiting on dinner.
Save For Later on Pinterest