5 Steps To Teach Kids How To Set Goals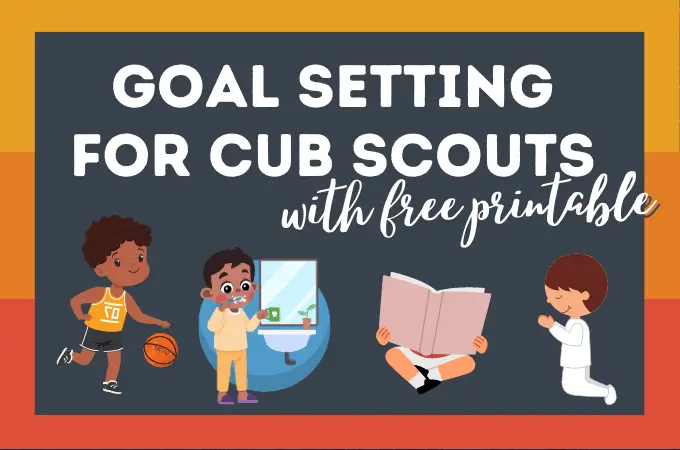 A goal of cub scouts is to raise successful kids. One of the first steps in becoming successful in anything is to set goals. Setting and accomplishing goals is a learned skill and our free printable along with these 5 steps will be helpful in teaching kids all about goal planning.
1. Pick A Very Specific Goal
When you talk with kids about setting a goal, help them understand that the goal should be very specific for them to improve on something. If a goal is to broad they are less likely to know where they are in reaching their goal.
Here are some examples:
Broad Goal: I want to get better at basketball.
Specific Goal: I want to be able to make 6 out of 10 free throw shots by the end of the month.

Broad Goal: I will be nicer.
Specific Goal: I will say something nice to 3 people each day for 14 days.
Broad Goal: I want to read more.
Specific Goal: I will read 15 minutes a day, 5x this week.

This step should answer the question "how much" or "how many." When setting up your goal you will want to decide how many times a week or month you need to do something for it to be successful. Is it 5 times a week? 3 times a week?
Another option is that you can measure growth. If you are practicing basketball maybe it's how many times you want to make a free throw. Your goal could be you want to make the free throw shot 6 out of 10 tries. Now you will know to practice, practice, practice, until you improve your shot.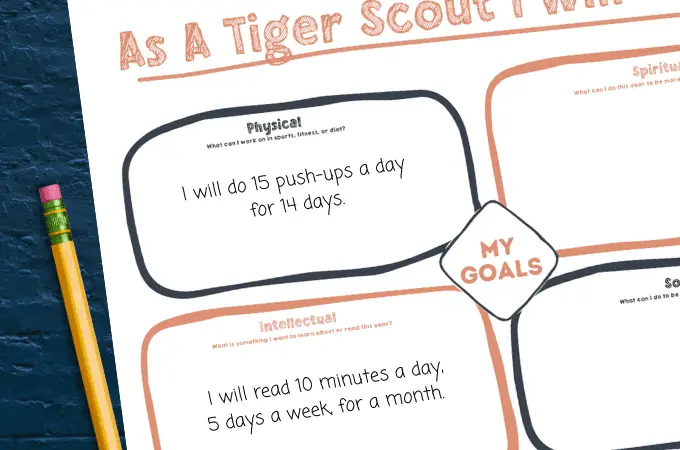 3. Make The Goal Attainable
Kids tend to make very large, unrealistic goals because they don't know better. For example, they might say they want to do a thousand push-ups every day for 30 days. Well, that sounds exciting and something Captain America might do but it is not realistic for a child.
One of the reasons kids enjoy playing video games is that it has levels or goals built into the game and even though a level might be hard it is never impossible. Kids enjoy & thrive when they have realistic goals they can achieve.
With this in mind, help them set up a goal, not of 1,000 pushups in a day but maybe something more realistic like 20 or 30 pushups a day for 1 week.
As mentioned in #2, when making a realistic goal keep in mind the time frame.  There are some goals that doing "every day for 14 days" is easy, like brushing your teeth or saying your nighttime prayers, but there are some that are not realistic and are more likely to lead to a feeling of failure.
For example, a goal of reading every day for 7 days…unexpected things happen and we along with our kids can get so busy that there is no time to complete their reading for the day.
Here is a possible scenario, we pick kids up from school, they have to run errands with us, go to their ball game, get home and do their homework, eat dinner with the family, take a shower and now it is bedtime…there was no time in that day for 15 minutes of reading…does that mean they fail at their goal of reading every day for 7 days? It shouldn't.
In this case, it would be better to set up a goal that says, I will read for 15 minutes 5x this week. This will give a little wiggle room for the unexpected and they will still be reaching a goal, they will still be improving, and they will feel successful and more excited to set up another goal the following week.
When we pick a goal we want it be exciting and rewarding to us in a personal way. Let kids think about things they are wanting to get better at and let them figure out some goals they are interested in achieving. You can give them some guidance but be sure to let them choose.
5. Give The Goal A Set Time Frame
When making a goal you need to set a time frame so you can track your improvements. For example if you say I want to read more this month, well, then sitting down and reading for 1 minute a couple times in a month could count as reaching your goal but is it really helping you get better at something?
As in the Broad/Specific goal example in step #1 you can see the benefit of setting a time frame of 7 days, 14 days, 30 days, etc.
For kids, they will want to set shorter time frames so they can feel the reward of completing something and reaching a goal. This will give them more confidence and will help motivate them to set more goals.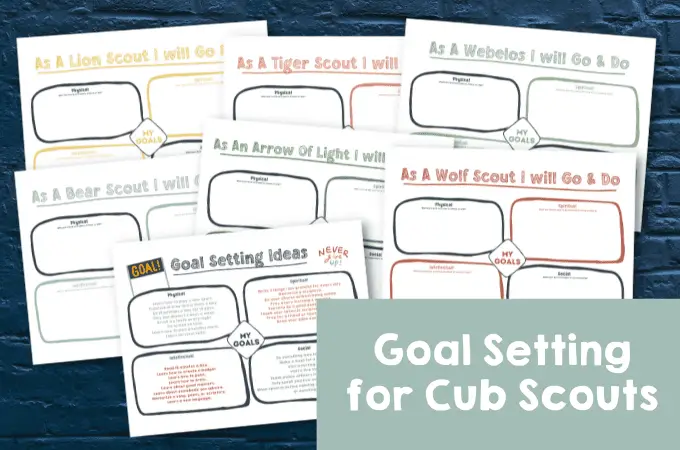 Free Goal Setting Printables for Cub Scouts
We have made for you a free printable to help you while teaching your Cub Scouts about setting goals. Click any of the links below and don't forget to also download the Goal Setting Ideas to help you get started.
Lion (they can draw in the boxes instead of writing)
Tiger
Wolf
Bear
Webelos
Arrow of Light
Goal Setting Ideas